Welcome to Spill the Milk, where we ask some of the UK's most famous mums and dads to reveal all about the wonderful world of parenting.
We caught up with mumfluencer and bestselling author, Louise Pentland, who opens up about loneliness during motherhood and how divorce was necessary to help her find a happy family life.
As far back as I can remember, I've always wanted to be a mum
I was a kid that had baby dolls and all the accessories. I used to have this really amazing wooden cot that turned into a highchair — I don't know if any other 80s kids remember that. But I had lots of the dolls you could feed, I had nappies for them, I just I loved it. So as soon as I reached adulthood in my early 20s I was already thinking about it and I had Darcy when I was 25. I love being a mummy.
Motherhood has been so joyful, but I was also surprised at how lonely it can be
When I was little I role played taking the baby out in the pram and feeding the baby, but I didn't roleplay being really, really bloody lonely — that would've been a really weird, dark game for a six-year-old to play, wouldn't it? When I had Darcy all of my friends weren't having children at that age so I was on my own a lot. Then when I had Pearl, six years later, lots of my friends had and it makes the world of difference having a mum community. I remember feeling a bit cringy about it when I had Darcy, I was like 'no, I don't want to go to baby groups, I don't need mum friends',  but then when I got them I was like 'oh right, yeah I get it, they weren't wrong'. And my family set up isn't how I envisaged, like I didn't play the divorced single mum as a kid either. But sometimes you have to make those hard choices, like divorce, to come to a really beautiful, happy life. I'm so glad I met Liam, he's the dad I always dreamed my children would have.
Those moments of self-doubt are what I find challenging as a mum
You think 'am I doing the right thing? Is this the right choice?' and of course, being in a blended family has its challenges as well, so it's navigating all of those. I have to say, I always thought that babyhood would be the hardest bit, and still that first year I think is the hardest part of parenthood, but as Darcy gets older, I'm noticing that the emphasis more is on emotional parenting rather than physical. She can do all the physical things herself, feed herself, wash herself, but your parenting shifts and it becomes more of a challenge emotionally than it does physically, which I was surprised by.
Whenever my friends fall pregnant I always tell them to get these two things
The first one is a Doona buggy. It's a car seat that turns into a buggy without you having to faff around with a chassis and clipping something in and clipping something out, the whole body folds down into a car seat that you click into your car and it is the best thing ever. Then a really small item for mums that are bottle feeding, are these little plastic containers which are divided into three or four and you measure out the milk powder into those, so when you're out and about you have your distilled water or your boiled water cooled down in the bottle ready and then you just added that perfect amount of powder. It just makes feeding on the go so easy.
Doona™ Infant Car Seat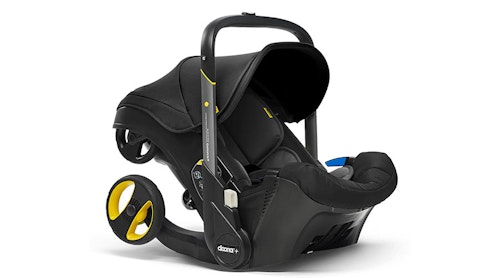 The Doona car seat transforms into a buggy within seconds and is suitable from birth up until your little one weighs 13kg.
MAM Milk powder dispenser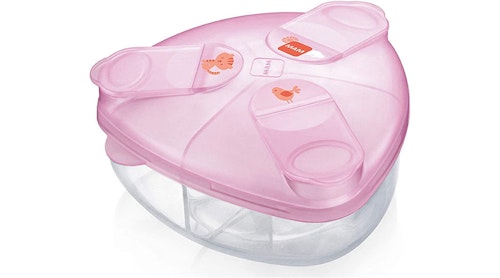 Small and compact so it can easily fit into your changing bag, the MAM milk powder dispenser has three chambers that hold up to 40 g of powder for three bottle servings. It makes feeding on the go super easy and mess free.
My dad taught me how valuable it is to validate your children's emotions
It's the importance of validating your children when they're talking to you, listening to them and being present and paying attention to their communication, because not all communication for children is just them coming up and telling you something. And just generally being really aware of everything about them.
Since becoming a mum I'm a lot more time efficient
The things I can get done in an hour is amazing, when before I had children I'd wasted a week fannying around doing and now I'm like, yep I can get that done straightaway, thanks a lot, bye! But also you never have time to do anything, so you actually don't get anything done.
Would you rather…
Stand on a piece of Lego barefoot or be pooped on by your baby?
I'm going to go for pooped on by the baby because you can wipe it off. But if it's with clothes, I'm going to go for Lego because poop on clothes is gross.
Never drink wine again or never drink coffee again?
Never drink coffee again because I don't really drink coffee.
Clean glitter out of the carpet or felt tip pen off the walls?
Felt tip pens off the walls because I would welcome glitter in the carpet, I love glitter.
Be able to go to the toilet in peace forever or have undisturbed sleep for a year?
Undisturbed sleep for a year, I wouldn't mind if you wanted to come in while I was having a wee.
Experience your kids temper tantrums in a busy library or an aeroplane?
Busy library for sure. Aeroplanes are very small.
Watch your child's favourite cartoon every day for a month or never watch Netflix again?
Every day for a month.
Your partner say 'I love you every day', or never say it, but got up every time your child woke up in the night?
I'm so lucky because Liam says he loves me every day and he will do most of the get ups because the deal was I was pregnant and gave birth, so he does the getups. I'll pick getups because sleep is more important to me.
Louise's new book Time After Time is available to buy now.


Source link